Costa Rica's Independence Day is celebrated on September 15th.  It commemorates the independence of the entire Central America from Spain, which took place in 1821.  The news of the country's independence reached the nation's people about a month after the declaration of independence that occurred in Guatemala.
Following the independence, the first constitution of the country was soon embraced.  The celebration of the first elections in Costa Rica was held in December, 1821.  The first elected Chief of State was Juan Mora Fernández, whom did much for the advancement of his country and people, as well as promoted industrial and commercial development.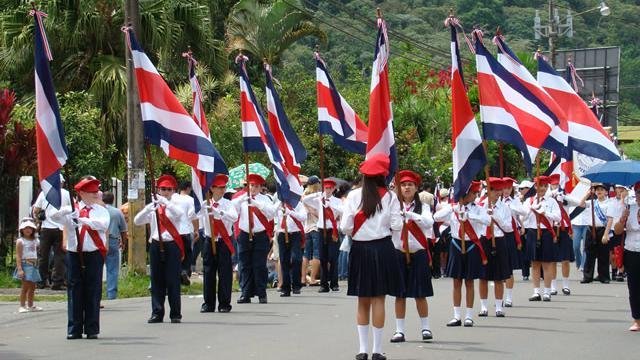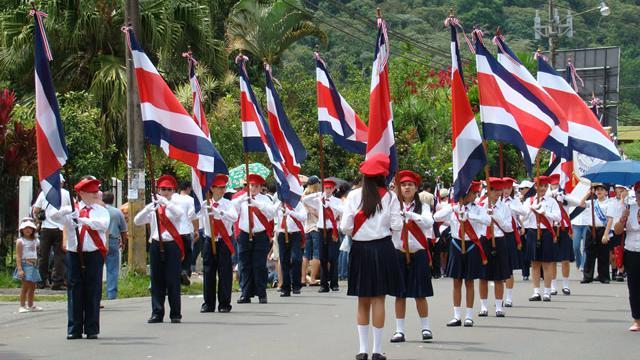 The Independence Day of Costa Rica has been declared an official national holiday in the country and is celebrated with much joy and cheerfulness.  The national holiday is marked by raising the National Flag, patriotic parades and the singing of the National Anthem. Even though September 15th is Costa Rica's official Independence Day, festivities begin on the 14th, with the reenactment of the notification of Costa Rica's liberation carrying the 'freedom torch'.  At precisely 6:00 p.m., national TV and radio stations broadcast Costa Rica's National Anthem, as the entire country sings along in a burst of patriotism.  Following the anthem, the popular 'faroles' parade begins – homemade lanterns symbolizing the original freedom torch.  Children in traditional costumes perform typical dances and then the fireworks begin.
Another important parade takes place on the morning of the 15th.  School bands march along with children wearing traditional dresses, dancing at the beat of drums and lyres.  During the vibrant and colorful processions, Costa Ricans, young and old alike, sit on sidewalks and enjoy the parade in a peaceful, friendly and family oriented environment.
There is typical Costa Rica food for sale in stands along the roads, such as arroz con pollo (rice and chicken), tamales,  fried yucca,  black beans and rice, fried plantains, rice pudding, coconut flan, and tres leches (three milk cake.)
Independence Day activities at commercial centers and other communal places are also very popular and free to the public, offering folkloric shows, typical dancing, great music and more.
Source: https://www.costaricaguides.com/articles/costa_rica_independence_day.html