"If we walk up and down all the stairs of Valparaíso we'll have walked all round the world." Poet 
Pablo Neruda
 was alluding to the cosmopolitan vitality of Chile's second city, chief port and most romantic – and likeable – metropolis. He might also have been referring to the workout you get hiking around "Valpo" – as locals dub it. Spread over 42 hills, its mansions, houses, shanties and steep, cobbled roads are a sea-facing sprawl. When you get lost and hot, it's a relief to stumble on one of the four 
ascensores
 – funicular lifts – which cut out some of the climbing.
I'd been to Valpo before, to eat ceviche and enjoy fine wines from the nearby Casablanca valley, but this time I mainly wanted to explore the relationship between the city and Chile's Nobel prize-winning poet. A new film, Neruda, starring Luis Gnecco and Gael García Bernal, goes on general UK release on 7 April. That and a new direct flight this year from Heathrow to Santiago international airport (an hour or so from Valparaíso) is bound to revive interest in Chile's second city.
I began my mini-pilgrimage 84km south of Valparaíso, at Isla Negra. This is not an island at all, but a gorgeous beach spot where, in 1944, Neruda started building a house where he could work on his masterpiece, Canto General, and throw parties. It took two architects, with their demanding client advising, around 20 years to complete the house. Neruda travelled around Chile and overseas as senator and leading communist party member. He was also exiled for several years in Buenos Aires and Mexico. But, as Neruda put it: "The house kept growing, like people, like trees."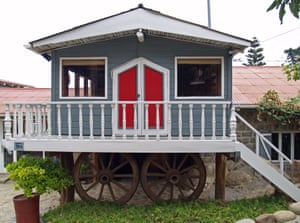 Every 10 minutes, up to 14 people are allowed into his Casa de Isla Negra, which they tour with an audioguide. The commentary is academic in detail and, if inevitably positive about Neruda, still enlightening. The house is a marvel, with rooms decorated according to the writer's passions. One living room is shaped like a ship, another like a train carriage. Huge figureheads jut out at every turn, and ships in bottles fill windowsills. Neruda was an avid collector, of bottles, shells, insects, butterflies and, from the looks of his wardrobe, tweed jackets, ponchos and hats.
With its ship-like narrow corridors and steep staircases, vivid paintwork, and mismatched and modernist furniture, the house doesn't look dated at all. It evokes a Neruda who was playful, whimsical and – for a communist – a lover of luxuries. To entertain friends, he had a large bar built, and he liked his guests to come in fancy dress, on themes he dictated.
Immature? Maybe, but as Neruda said: "The man who does not play has lost the child within him."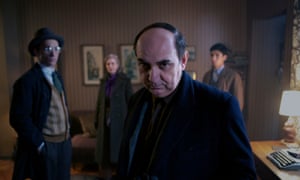 Outside the house is Neruda's tomb, and below it a stunning rocky beach. Even on a day of low wind, surf was crashing, turquoise with frothing white tops, and the light magical. I asked a Brazilian woman to take my photo and, unbidden, she poured forth her feelings for Neruda. "I've been in tears. This is such a magical place. I've been wanting to come here for years."
I'm not sure any European poet has quite this effect on people. Nor can her passion be written off as typical of Latin Americans. A little later, at the cafe (where Neruda-label wine was on offer), a local woman, when I mentioned my Brazilian friend, witheringly exclaimed, "Que tontita!" "How silly!" Neruda divides opinion, especially in his home nation. One local told me at least a third of Chileans are pro-Pinochet, which makes them anti-Neruda.
After lunch at a roadside restaurant, it was on to Valparaíso to visit Neruda's hilltop house, La Sebastiana (named after its original owner, Sebastián Collado) where he held a big housewarming party in September 1961. Neruda liked to celebrate New Year's Eve there and, taking in the view from the top floor, I could understand why. By day, you see Valpo's colourful wooden houses and shacks tumbling down to the port; by night, they become a host of tiny lights, mirroring the Milky Way above.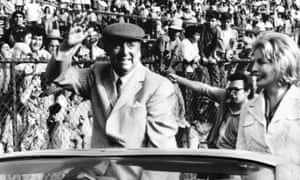 This less cluttered, more sophisticated house (another good audioguide was provided) suggests further sides of Neruda's personality. Antique maps and art, and screens from Asia, tell of his exotic travels. A large portrait of Walt Whitman honours a major influence. Another, of Lord Cochrane, reminds us of Scotland's links with Chile's independence wars. An antique merry-go-round horse evokes the child again, or the nostalgist. The walls are painted in lively blues and pinks, to "make them dance", according to a poem about La Sebastiana.
Sunshine pours into the higher floors, and the eyrie-like feel of his working space – his chair stained with green ink – reminded me of Dylan Thomas's shed in Laugharne. Both men were hedonists, womanisers, socially extrovert; both needed hideaways to get down to writing.
"I feel the tiredness of Santiago," he wrote. "I want to find in Valparaíso a little house to live and write quietly. It must meet certain conditions. It can't be located too high or too low. It should be solitary but not excessively so."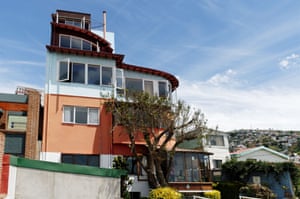 His builders nailed it. La Sebastiana is the ultimate city home: peaceful and aloof, but boasting a view of Valparaíso. And it's a convivial, colourful place, too. But, as anyone will tell you, Valpo lacks major museums and other attractions. As well as being great fun and quite inspiring, Neruda's poetic pads are obligatory stops for anyone keen to understand Chile and its recent history. It was at Isla Negra that his poetry and politics came together. It was in La Sebastiana that he came to global prominence. The houses speak to their settings, merge with them, reshape them in their window frames.
"I love Valparaíso," wrote Neruda. "Queen of all the world's coasts,/True head office of waves and ships,… I love your criminal alleyways."
I loved it too. From La Sebastiana, I made my way back to my hotel on foot – downhill – via lanes and staircases, past walls bursting with street art, via tiny bars and shadow-filled plazas. The "crazy port" made more sense now; Neruda did too.
Isla Negra and La Sebastiana are not the only Neruda-linked sites in Chile. Santiago's Bellavista neighbourhood boasts a third house, La Chascona, also worth a visit. Neruda was born in Parral, in the wine-growing Maule region, and brought up in the southern city of Temuco (which has a dedicated walk). As a diplomat, he spent time in Mexico, Catalonia, British-ruled Burma ("I still hate the English," he wrote), Ceylon, Java and Singapore. The ultimate globetrotting troubadour, Neruda exerts a powerful appeal for travellers. But do go and visit his two favourite seaside houses, and his beloved Valpo. Even if you don't feel you've quite circled the globe, you'll have seen something of his poetry-filled world.
• Ch$7,000 (£8.65) per person per house; audioguides in English, French, German, Portuguese and Spanish. More info at fundacionneruda.org
• Neruda is released in UK cinemas on 7 April
Source: https://www.theguardian.com/travel/2017/apr/07/chile-pablo-neruda-film-poet-valparaiso-isla-negra