Health Insurance for the Hispanic | Latino Segment
As health insurance companies as well as government health exchanges compete across the country for enrollment, multicultural and specifically the Hispanic audience is key.  For some states, this segment represents a major client segment across the state (California, Texas, Florida), while in other areas it may be more focused on a specific area (Grand Rapids, Michigan).
With the exception of Magellan Health, all of the other top health insurance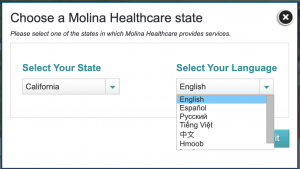 providers have a robust experience in Español as well as other languages.
In most cases, especially in states with major Hispanic populations in the state, there are robust Hispanic focused advertising efforts.
Health Statistics for the Hispanic Community
Representing nearly 60 million people and over 18% of the U.S. population there is no doubt as to the importance of this group.  While the population continues to grow for the Hispanic segment, the percentage increase due to immigration has declined (Pew Research: Key Facts about U.S. Hispanics).  However, when looking at the Latino population of the U.S. as a whole there are some key attibutes noted by the U.S. Department of Health and Human Services Office of Minority Health  that are important to consider.
Top 10 States for Hispanic Population: California, Texas, Florida, New York, Illinois, Arizona, New Jersey, Colorado, New Mexico and Georgia.
Census Data 2017 shows that 72% of Hispanics speak a language other than English at home.
Only 68% of Hispanics versus almost 93% of whites had a high school diploma
Hispanics have the highest uninsured rates of any racial or ethnic group within the United States
Key Health concerns in comparison to non-Hispanic whites: Obesity,  Asthma (Puerto Ricans), Diabetes (Mexican Americans), as well as higher rates of HIV/AIDS and infant mortality.
Hispanics have the highest uninsured rates of any racial or ethnic group within the United States
While the political fight (Hispanic Voters Take Over) over the future of healthcare, government outreach and private insurance companies will continue to reach out to Hispanics.[/vc_column_text][vc_custom_heading][vc_column_text]
Additional Resources:
Multicultural Healthcare Initiatives
Alcance Media Group – Multicultural Health Marketing | Hispanic Healthcare marketing